How to Do Content Production for Blogs with Airtable
Last updated on June 10, 2021 at 07:08 AM.
Content is absolutely essential for marketing. Without content, it is impossible to convey a particular message to a potential customer or follower. As a result, successful content achieves concrete goals. These goals are typically brand goals, such as positioning or contextualization. But they can also be performance goals such as increasing visibility or turning users into customers with sales conversions. To ensure that content reaches the right person at the right time and encourages the desired action, content needs to be strategically planned. All content is a strategic masterpiece – at least it should be.
Unfortunately, this makes it not only valuable, but also expensive. In order for the production of such powerful content to be efficient, smooth and successful, many different perspectives must be taken into account. One way that we've made things easier is using Airtable as our content production tool. In this article, we show how this works and how we can make your production more efficient in no time.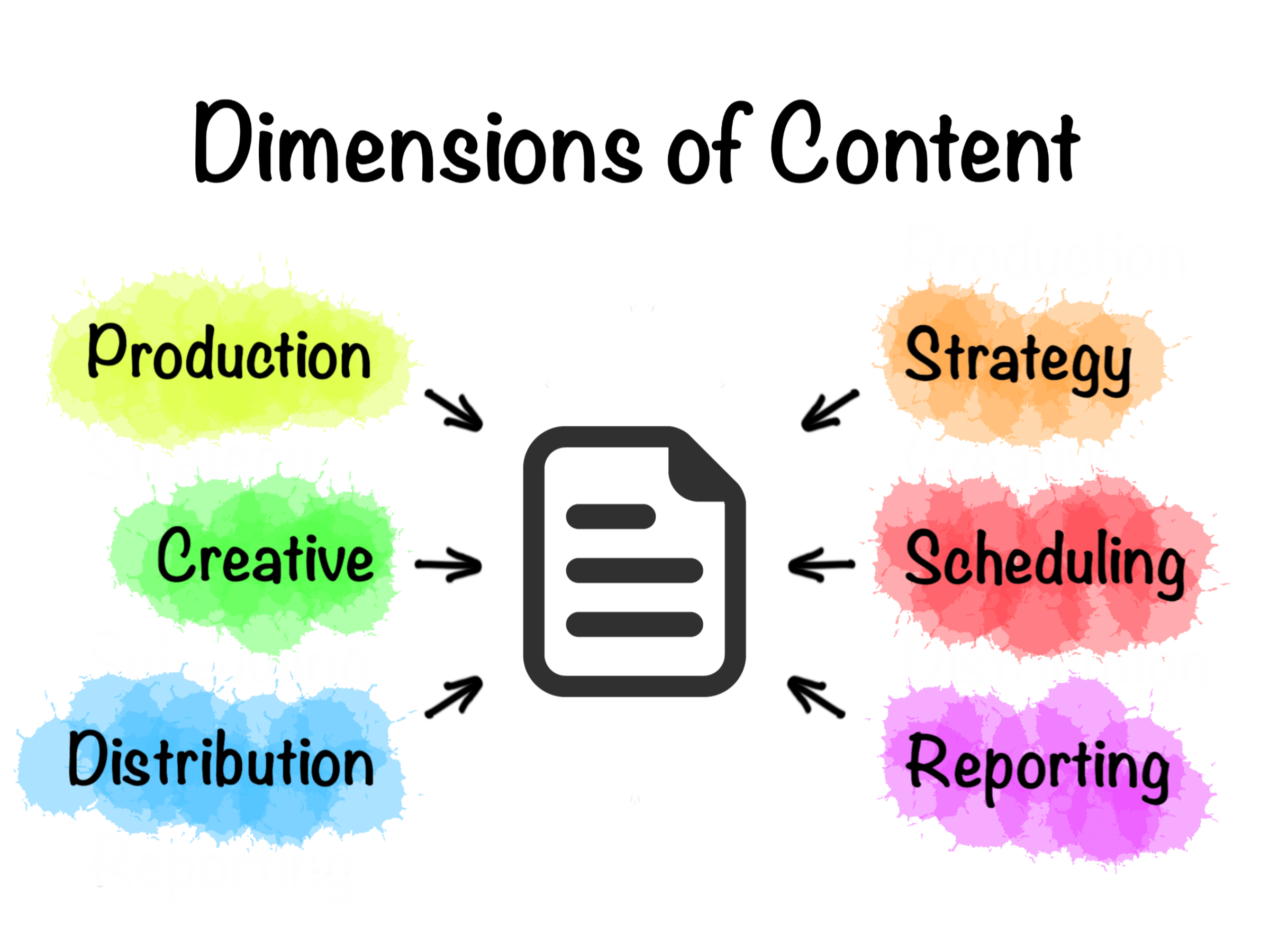 9 Reasons to Choose Airtable for Content Production
Recently I read this quote:
"Airtable is Google Spreadsheets on steroids."
Not necessarily the nicest way of putting it, but still true: Airtable is basically a Google Spreadsheet that can be used like a large table.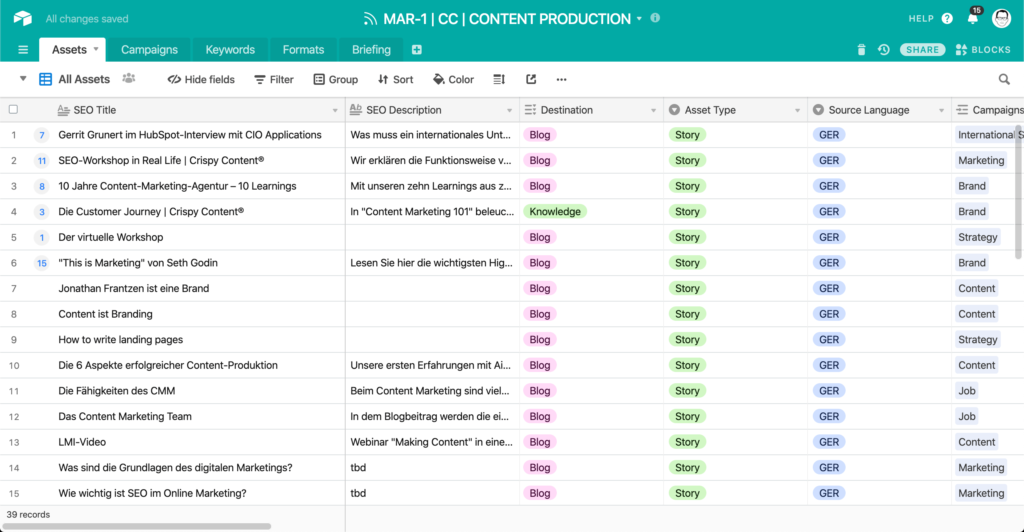 Nonetheless, there is one main difference from Google Spreadsheets: the records per row are treated like database records. This has several advantages:
Entries can be linked together across different tabs for further processing.
Entries can be evaluated from different perspectives.
Depending on your settings, data is displayed in different views and is therefore easier to understand. This means we can display the same data in a table view (like with an Excel editorial calendar), in a Kanban view (like in Trello) or in a calendar view.
You don't have to be a programmer to create the (database) tables and views. Editors, content managers, and marketers also have sufficient skills to use it.
By temporarily reducing the number of data views, complex projects, such as content production become easier to understand and handle.
Airtable integrates perfectly with Google Docs, Zapier and other solutions.
In contrast to editorial tools like Scompler, Airtable is freely configurable, meaning that you don't need to adapt to the editorial system. Instead, the editorial system adapts to you.
Airtable has an extremely vital community where users share their Airtable templates free of charge in the Airtable Universe.
The free version of Airtable is already extremely powerful.
Furthermore, in the paid versions there are some nice features like dashboards, time tracking and apps (called blocks here). For us the free version is sufficient at the moment.
The 6 Perspectives of Successful Content Production
In the intro we stated that content production is complex. If you want to produce successful content, we recommend that you include these six perspectives.
In the following text, we'll refer to them as dimensions. These dimensions are what creates successful content production. They are:
the creative dimension

the production dimension

the time dimension

the marketing dimension

the analytic dimension
Each dimension requires particular skills from the team as well as supporting tools. So, we will outline how we at Crispy Content® do content production with Airtable.
The Strategic Dimension
In the planning and strategic dimension we try to outline future content even before the first word has been written. In order to do so, we ask ourselves the following questions:
Which of our goals should the content achieve?

Which user needs should the content satisfy?

Where can we find a particular niche to stand out from competitors?
The goals that content on the Crispy Content® Blog can achieve include:
positioning our services based on particular themes

relating our services to a particular context

increasing the visibility of relevant terms based on SEO
The Campaign Overview
In Airtable, our content production tool, the above goals are displayed in different ways.
The positioning of our services relates to a particular campaign. We can view this in the campaign overview: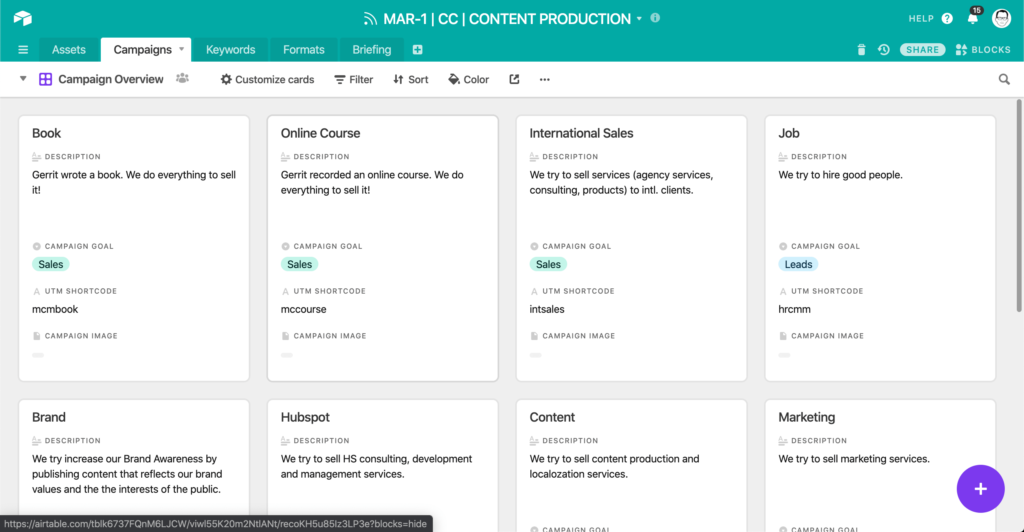 We at Crispy Content® position ourselves with particular content publications:
such as our book "Methodical Content Marketing,"
and our online course "Making Content,"

so that we are recognized as as an agency partner for international clients,

and so that we appear as as an attractive employer for potential applicants.
Even our conversion goals are included here. All services can be digitally "closed" (sales), only the applicants cannot avoid an interview (leads).
It is quite easy to see that campaigns are focused on monetization through services. If content doesn't work towards one of these business objectives, it is "unpaid" content, a cost factor. If content doesn't meet performance goals, it is not produced.
In the following screenshot we can see that our example post, which is exactly the post you are currently reading, has been assigned to the content campaign.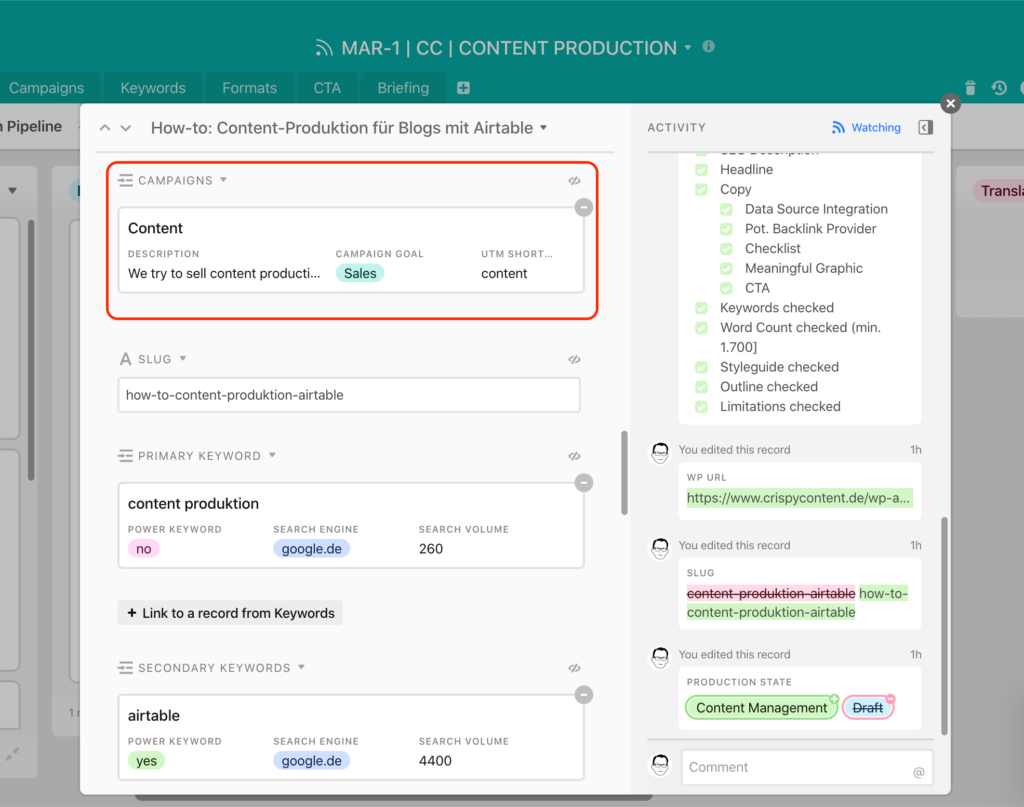 Our article highlights that Crispy Content®
understands content production and has fully mastered it.
makes content production more efficient than any other content agency through a structured approach.
is happy to share this knowledge with its readers.
Using this method, we initiate a sale for our inbound marketing in the medium term - whether it's by selling services, strategies, workshops, or implementation.
The Keyword Overview
Our content should also meet visibility objectives. For this reason we find relevant keywords in headings, subheadings and in the text itself - for the article itself, for us, and for readers.
They are formed in a manner that complements each other. The choice of keywords was not made randomly, but was based on the context of the monetizable services of Crispy Content®, the search behavior of users for SEO, as well as the competitive niche. As we can see in the image below, we can find all keywords relevant for Crispy Content® in the keywords overview.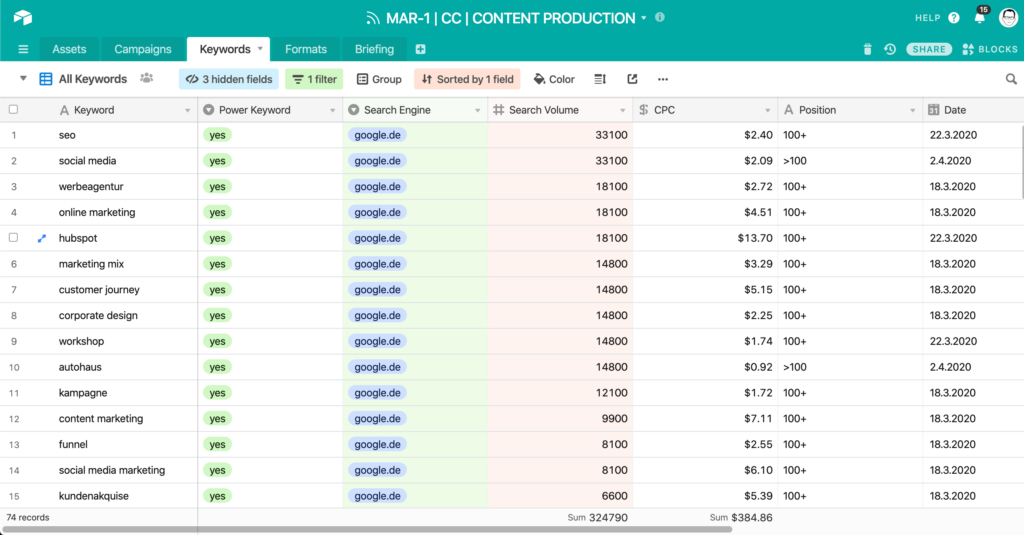 Each article is assigned to one or more keywords. We then use these keywords throughout the text, as seen in the detailed view of a particular article.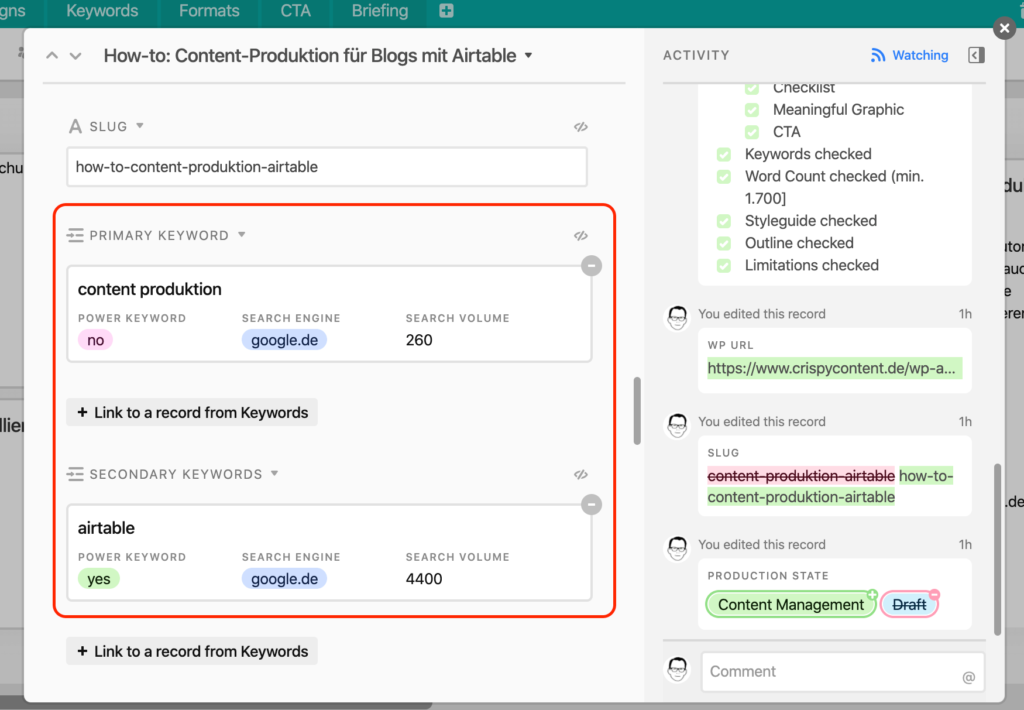 Finally, every blog post at Crispy Content® must also serve a specific conversion goal. Since conversions take place on HubSpot landing pages, the blog post directs users to the landing page via a CTA (call-to-action) communicating those benefits. This is also shown here in the detailed view, but in a shortened form.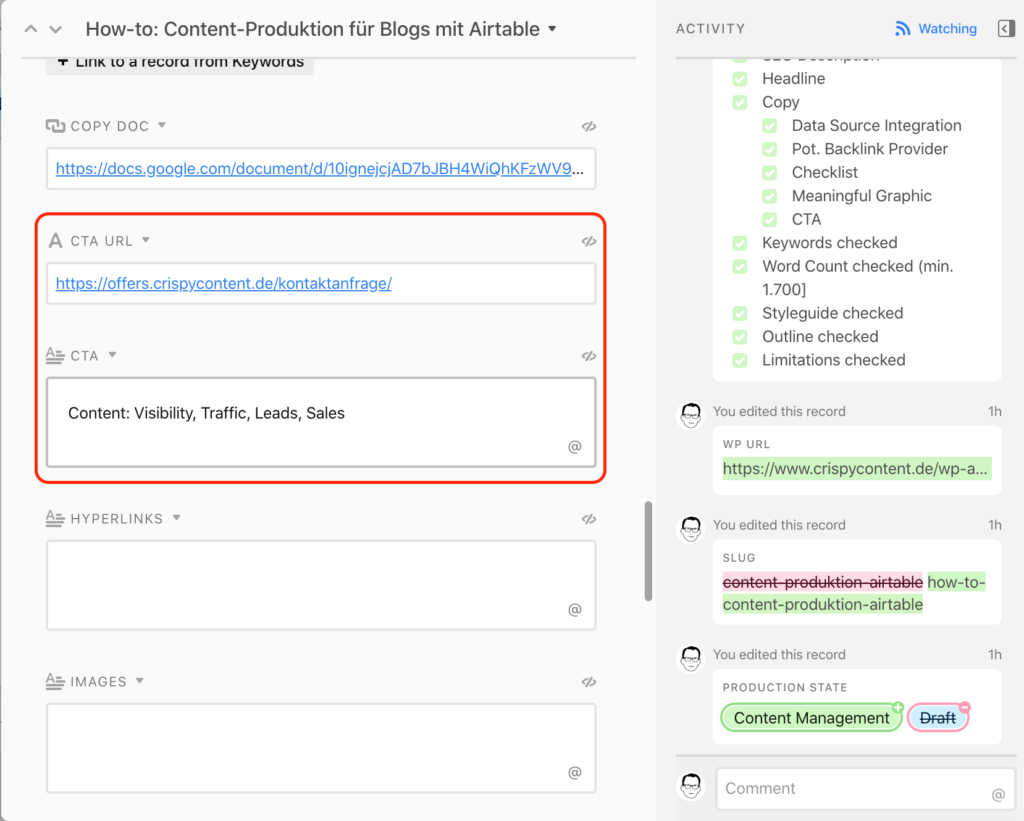 Airtable Content Production, CTA Assignment, Detail View
An alternative CTA would be the reference to our FREE online course "Making Content" because it could also be combined with the topic of content in general.
These initial considerations are taken into account before the first word is written. This means that our content never originates from a pure creative impulse, but rather creativity is transformed into something that is meaningful and useful.
The Creative Dimension
Campaign, keywords, and conversion goals do not yet make good content. You also need to consider the right content format.
It would probably be a bit much to expect real creativity in a content marketing blog. After all, we run the risk of not being understood. If we want to achieve a high number of impressions on the post, we need formats that the mainstream likes to read.
Here we get help from "Chief Sumo" Noah Kagan and his team. In 2017, Dean Yeong from the AppSumo team published a widely acclaimed post entitled "60 Blog Post Ideas to Fill Your Content Calendar" on the Sumo.com website.
In this blog post, Yeong listed the most successful AppSumo blog formats and other popular content types. Due to the large amount of information in the blog and its popularity, the numbers (175M visits) could claim a pretty accurate representation. Here we see the diagram with the top 10 formats that Yeong identified in his monstrous content audit.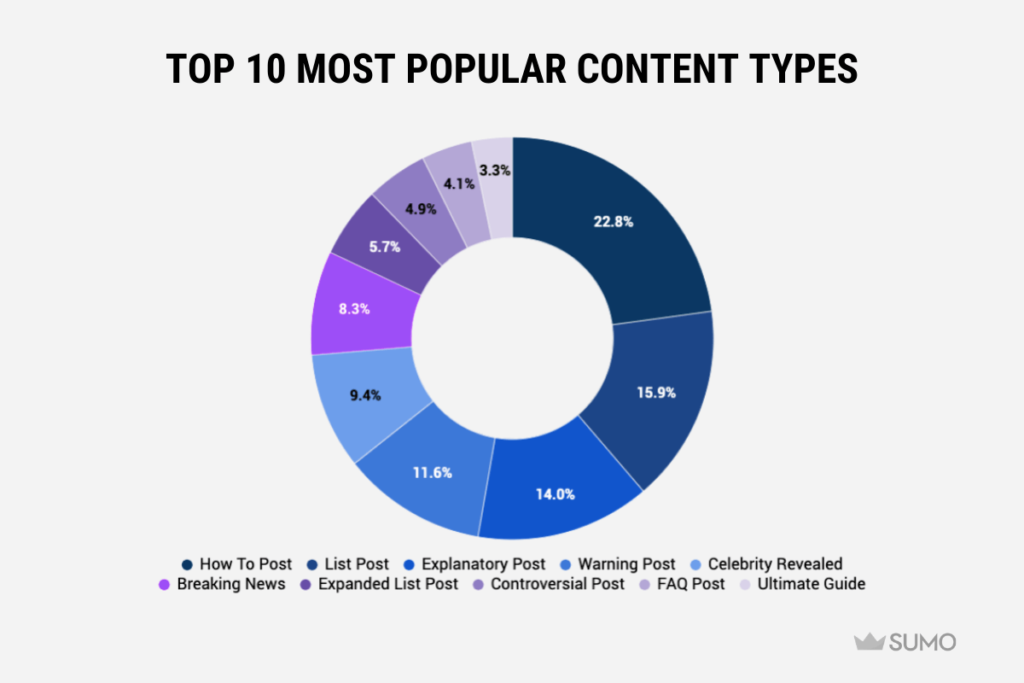 Writing a post about Airtable and content creation doesn't really make sense when done out of nowhere. But in connection with the "How To" format it does, because we have anticipated that readers will be interested in how successful content production is done.
To make the process completely clear, we have copied all the formats that Dean Yeong identified as successful, used similar descriptions, and explained how Airtable creates an overview that enables the correct creative strategy. We can see this on the following screenshot.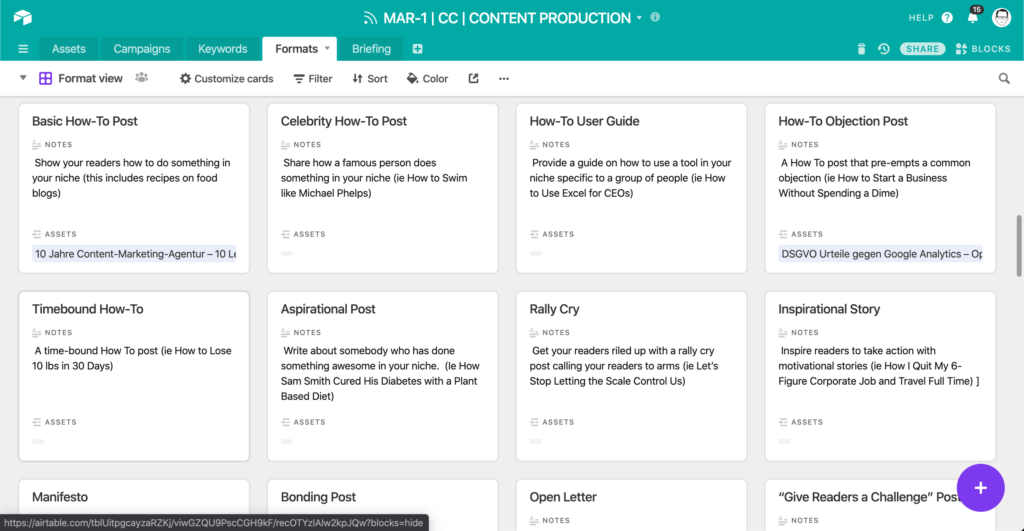 Now our content is sufficiently planned and we can finally produce it.
The Production Dimension
Strategic planning is usually followed by content production. In 50% of cases, production is mapped with collaborative tools such as Trello (for project management) and Google Drive (for hosting the text and media files).
There is actually nothing wrong with this setup. With Trello, we see the current state of the production process and the produced documents are excellently linked together. However, the information involved in the content marketing strategy has to be condensed again and mapped on another document, e.g. a briefing for each post. Not only is this simply too many steps, it is also easy to lose track of the whole process. This is especially true for content producers.
Airtable solves this problem, because it has different views of the same data. In addition to the Grid View, i.e. our spreadsheets, which we already mentioned, we can also display the same content in a Kanban View, as we know it from Trello.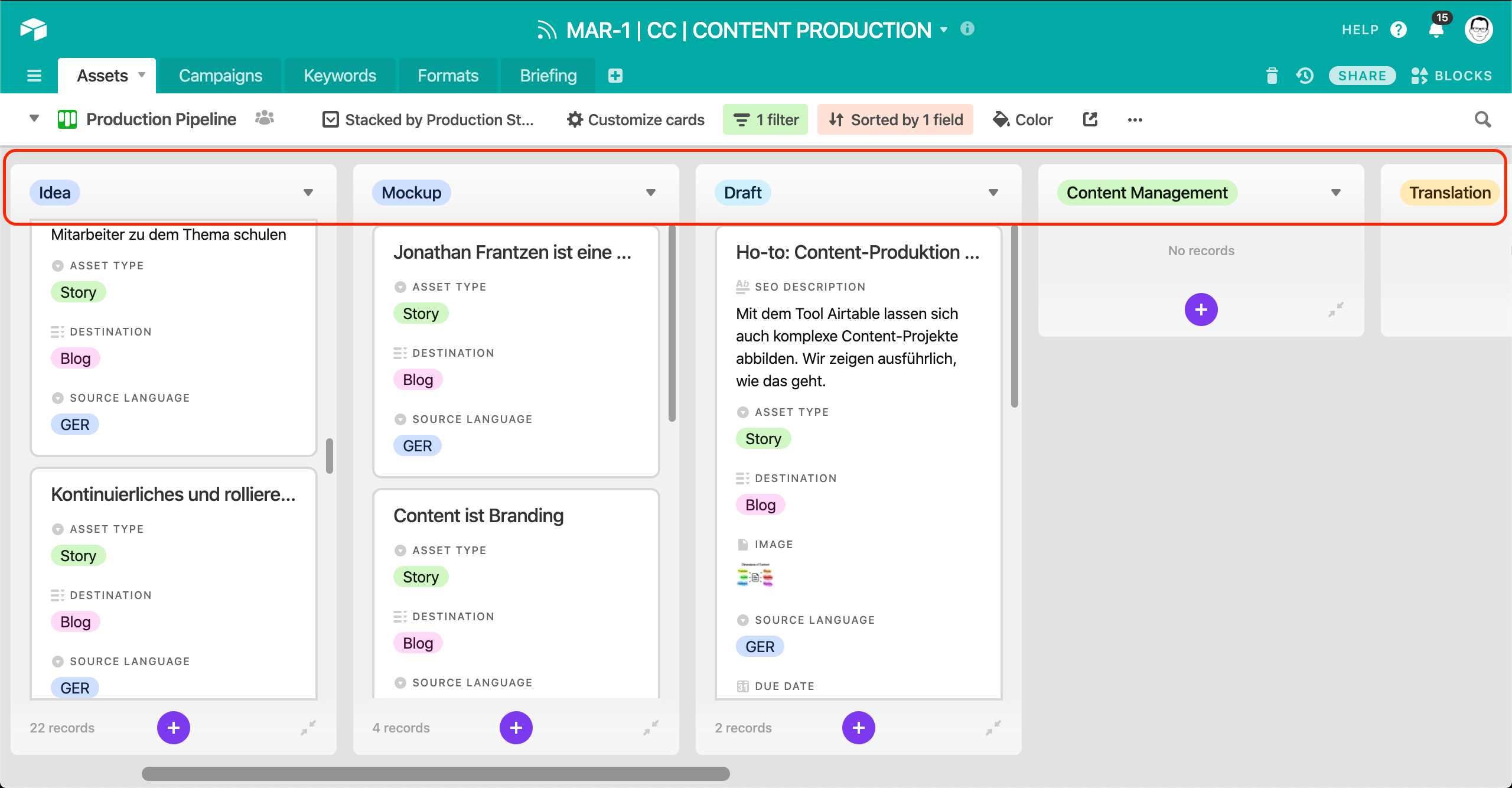 We can also show and hide all irrelevant information in the detail view, which is a blessing for writers. If our writers do end up needing more background information, they can find all our strategic thoughts in the hidden fields or in the tables linked to them.
Furthermore, in the description fields we can work with rich text elements and use ultra-fast markup to present all the relevant information for the task in a structured way. Nothing is swept under the rug, because it's all in the same place.
In the case of Crispy Content®, content production usually starts with an idea. After that, source information is copied together in a first mockup. The writer then produces a draft (usually in German), which is then entered into the content management system (CMS) after an extensive quality assurance process.
We also translate our content into English, since there is more potential for engagement via the international market. We translate directly within our CMS, because it makes it easier to adapt the hyperlinks and particular related content.
After the text is translated, we use the following steps:
the article is scheduled,

published,

promoted to particular backlink providers,

and the English content is promoted on Medium and LinkedIn.
All steps of the production process are represented in the stages of the production pipeline.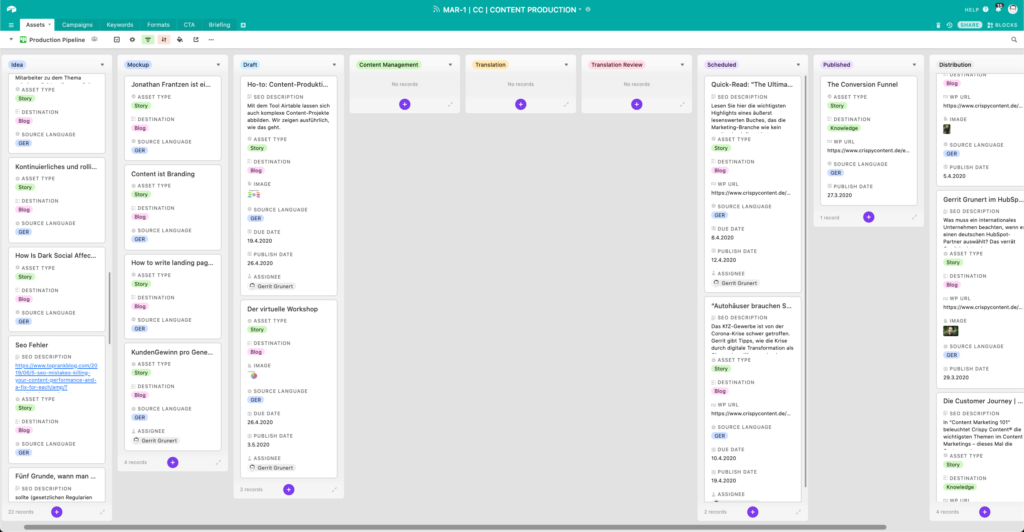 Using the QA (Quality Assurance) Checklist, we ensure that the quality always meets the strategy requirements.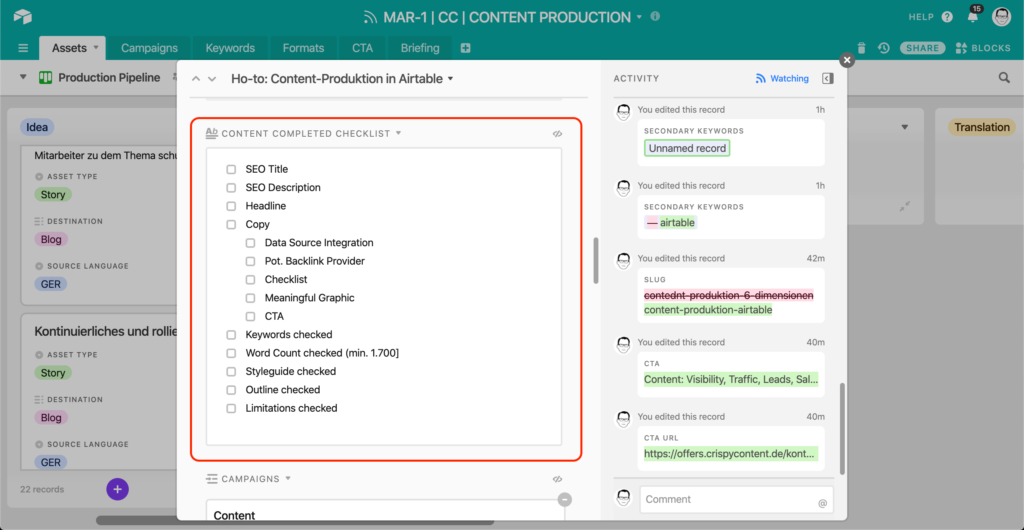 The Time Dimension
Time plays a very important role in content production, including the:
lead times to complete content

production times per stage of the production process
deadlines for the handover to the next stage
publication data itself
While we find only one date field on Trello cards, we can define any number of date fields on Airtable. In our case, it has proven to be useful to define due dates for the next production step as well as a publication date that represents the final deadline. We then reference this in our publication calendar.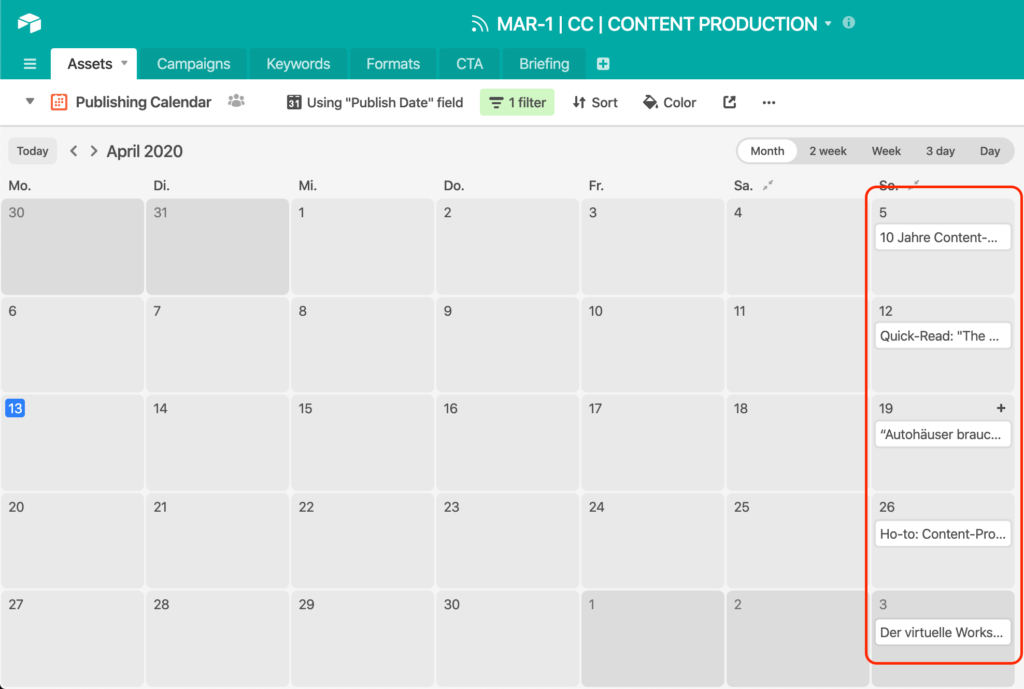 The Marketing Dimension
There are countless possibilities to market content. The effort involved should have a healthy balance with the benefits received. We use the following marketing methods for our content:
the seeding of our content on our social media channels and our blog

publishing on LinkedIn and Medium
marketing via link building outreach
In order to make the last point easier, link building should already be taken into account for a potential link provider during production. In this guest article on Noah Kagan's blog OkDork.com, Peep Laja shows how it works. We have also illustrated this with our Content Completed Checklist.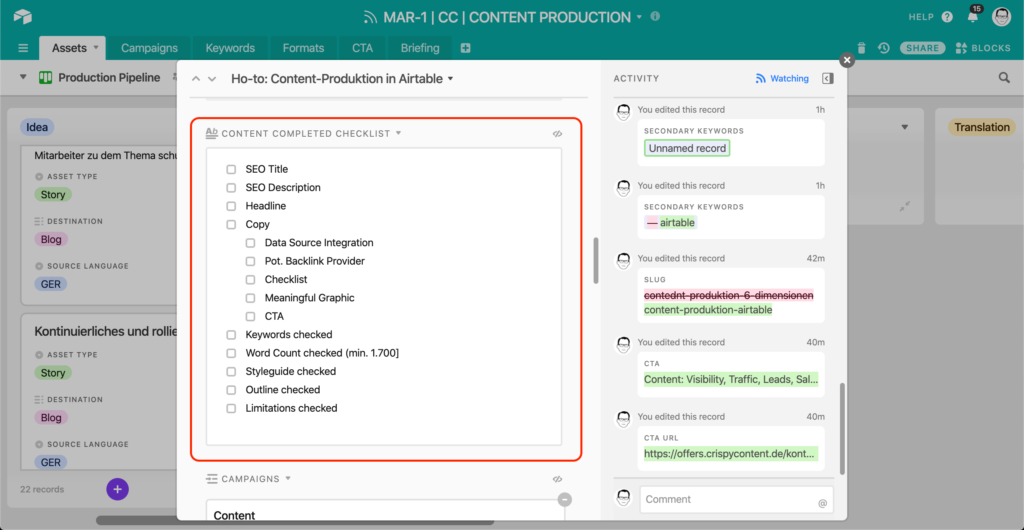 The Analytic Dimension
We rely on Google Analytics, HubSpot and SemRush for performance measurement:
We use Google Analytics to evaluate the onsite traffic.

We use HubSpot to track the conversions in the form of clicks on CTAs or with form submissions.

We use Semrush to monitor keywords we focused on, the backlinks we gained, as well as SEO performance.
For this last dimension we have to leave Airtable. Although Airtable has numerous integrations in its paid version, at the moment it does not have an integration of tools like Google Analytics, Semrush, Ahrefs or others.
In theory, the best case scenario would be to collect the key metrics of a post in particular tools and then enter them into Airtable columns belonging to that content.
Nonetheless, because this doesn't yet exist, we have evaluate this data in a separate tool's dashboards.
The Summary
Creating good content that meets performance goals can only be done when the following is considered:
strategy

creation

production

time

marketing

analysis
We use Airtable both for our own content production and for clients. As a result, we maintain an overview of all areas (except analytics) in only one tool. Airtable has helped us to resolve former issues that we had with Trello, Google Spreadsheets, and other tools.
The Next Steps
In order to streamline your content production, we recommend the following steps:
Create account with Airtable.
Create a tab for future content assets.
Create and adjust the columns you consider relevant for strategic planning.
Research relevant keywords (high search volume, low competition and good fit for your products/services) using a tool such as Ubersuggest, Semrush, or Xovi.
Store keywords with all information in another tab.
Create campaigns in another tab.
With each article, identify the appropriate formats and create them in another tab.
If necessary, create additional tabs for a buyer persona or specific CTAs.
Link those tabs with each other.
Invite your collaborator.
Start content production.
We wish you the utmost success!
---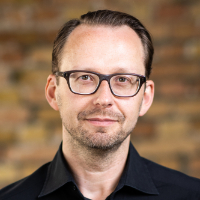 Gerrit Grunert
Gerrit Grunert is the founder and CEO of Crispy Content®. In 2019, he published his book "Methodical Content Marketing" published by Springer Gabler, as well as the series of online courses "Making Content." In his free time, Gerrit is a passionate guitar collector, likes reading books by Stefan Zweig, and listening to music from the day before yesterday.