4 reasons tour operators should practice content marketing
Last updated on April 21, 2022 at 20:28 PM.
In our Crispy Content Sector Review we examine what companies within a specific sector can achieve with content marketing. We'll start by taking a close look at tour operators in Germany. And we're stunned by our findings: Only a few of the big players utilise content marketing – and not really in a manner that might intimidate a niche provider. In other words: As it stands, awesome opportunities are opening up to forward-thinking companies that want to provide relevant and useful content for their target group.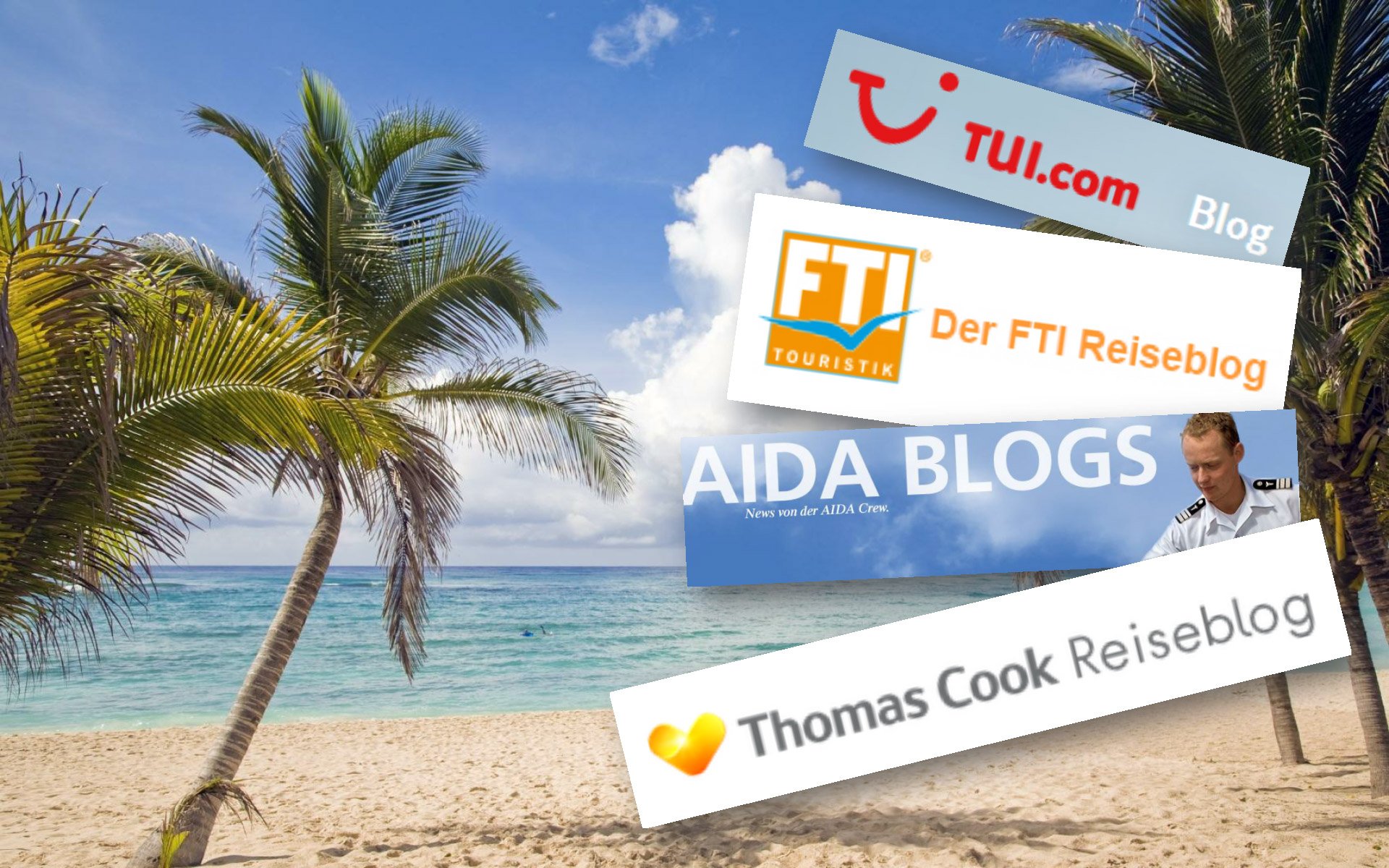 In 2013 the tour operators in Germany were TUI Deutschland, Thomas Cook, DER Touristik, Alltours, FTI, Aida Cruises and Schauinsland Reisen - all big names. Big enough to eliminate niche marketing opportunities within the travel industry?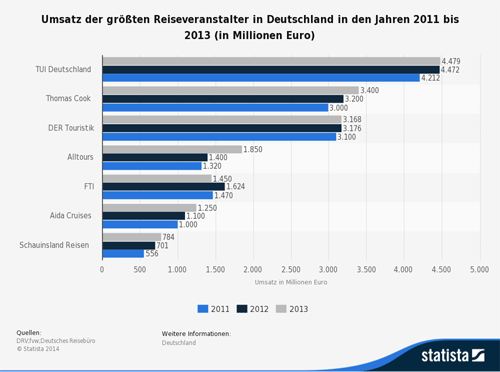 TUI Deutschland is achieving the highest sales figures of all tour operators in Germany. (Source: DRV; fvw; Deutsches Reisebüro according to Statista)
Rankings and Keywords: Long tail keywords as an opportunity
Let's start by taking a look at the rankings and keywords of the big players. TUI and Co. primarily use short tail keywords, for which competition is fierce and which are consequently very expensive: For obvious search phrases, such as "book holiday", "book trip", or "holiday offers", the likes of TUI, Thomas Cook and FTI are clearly ahead of the game and fill the first results pages on Google. Here, they fight for their positions with price comparison portals and aggregators, such as expedia.de, holidaycheck.de and weg24.de. It's virtually impossible to make any headway with this approach.
Since Google added the Hummingbird update to its algorithms, long tail keywords are becoming increasingly important. Our project manager Thomas explains how to identify search phrases comprising three or more keywords in 7 simple steps to fit your own marketing strategy. These help to achieve better Google rankings than would be possible with short tail keywords alone. This is an awesome opportunity for niche travel companies with little interest in the mainstream market and clearly defined target groups with particular interests. Seizing this opportunity requires a well-thought out SEO strategy and good content, which brings us to the heart of the matter.
Who practices content marketing?
Out of the seven tour operators with the highest sales figures, only three keep blogs that can be considered a content marketing instrument: TUI, Thomas Cook and FTI. DER provides its magazines Unterwegs and Oceanview as ePapers - which clearly serve as advertising - and Aida Cruises' PR efforts include blogs by the AIDA crew.
That's three efforts to provide content, or five with a slightly more relaxed definition. Whether or not users define content as broadly remains questionable - and a company should not presume that they do. Relevant and useful content is at the heart of content marketing and with respect to tour operators, there's a lot of room at the top.
Content marketing via social networks
The situation on the social networks is not much different. Of course, there's no need for every company to have an account everywhere. Less is often more, especially if resources are scarce. However, there's no excuse for a tour operator not to have an Instagram account in 2014.
It's pictures that make us want to see the world. Nevertheless, only Thomas Cook is maintaining an Instagram profile. Bearing in mind the tour operators' high advertising spend, this is difficult to understand. An image collection tailored to a particular target group is a valid form of content marketing - and a cost-effective one at that.
A look at Facebook shows how little tour operators value content compared to advertising and PR: In the ten most recent posts (as of 31/07/2014), four of the posts by Thomas Cook referred to content, three by FTI and only one by TUI - most of these pointed to their own blogs. In contrast, a rather large number of posts were clearly of an advertising nature.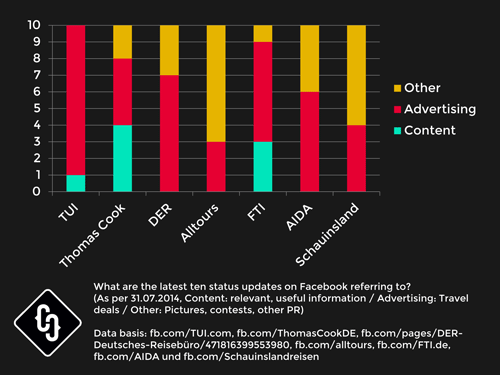 What type of content do the ten most recent Facebook posts of the tour operators with the highest sales figures refer to?
4 reasons tour operators should practice content marketing
These brief analyses show that a number of arguments point towards content marketing for tour operators. The four key points are:
1. The content marketing cake has not yet been shared out.
Only three of the seven biggest tour operators in Germany utilise some form of content marketing by keeping blogs. Content marketing and blogging are not the same thing. Relevant content isn't limited to text - it also includes pictures, audio and video. This leaves a lot of room at the top and therefore an enormous potential for other tour operators. Develop your content marketing strategy - and do it now!
2. The relevant social networks are waiting to be discovered.
The seven big players haven't claimed their ground yet. Only Thomas Cook even has an Instagram account. It's a similar story on Facebook; the big tour operators mainly use the social network for PR and advertising, which plays into the hands of competitors looking to position themselves.
3. The content already exists; it only needs a strategy.
The holiday sector is almost made for content marketing. Few other industries can claim that. Every single traveller has a story to tell. People are fascinated by travelling. Travelling means discovering something new, doing unusual things - things that anyone sitting at their desk enjoys clicking on. Images and information are already at hand - they've been prepared for advertising. All that's left to do is to transform the existing material into useful and relevant content.
4. The target group is keen to provide content.
In 2014, holidaymakers are moving from one Wi-Fi hotspot to another. They happily post, share and type their experiences. Such generous voluntary involvement shouldn't go wasted. This content is waiting to be incorporated into a strategy!
Obviously, we focused our analysis on the seven biggest players amongst the German tour operators. The market is significantly larger. Yet, the principle is obvious: Supported by a solid strategy, a tour operator can achieve a lot with content marketing. Whether this content is created in-house or produced by external professionals who specialise in content marketing and brand communication is secondary.


---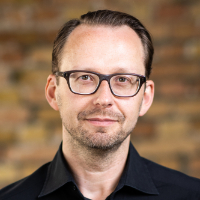 Gerrit Grunert
Gerrit Grunert is the founder and CEO of Crispy Content®. In 2019, he published his book "Methodical Content Marketing" published by Springer Gabler, as well as the series of online courses "Making Content." In his free time, Gerrit is a passionate guitar collector, likes reading books by Stefan Zweig, and listening to music from the day before yesterday.