10 Steps For Your Perfect Website Content Strategy – Pt. 1
Last updated on January 2, 2023 at 14:44 PM.
A website that is visible in search engines, attracts the right visitors, provides them with added value in terms of content and possibly emotion and converts them into customers is a small total work of art. The demands have increased, a tasteful design has not been sufficient for a long time. The concentrated skills of strategists, designers, developers and marketers are needed if a website is to deliver results after relaunch. Such a project is no longer a web design project, but a marketing project. That's why the content marketer has an important role, if not the most important role: Due to his knowledge and skills in communication, marketing and sales, he is predestined to be the boss of the troupe. In our small two-part guide we show which 10 steps content marketers have to take to successfully manage a website launch or website relaunch from a communications perspective. The first part is about business goals, target groups and much more – let's get started!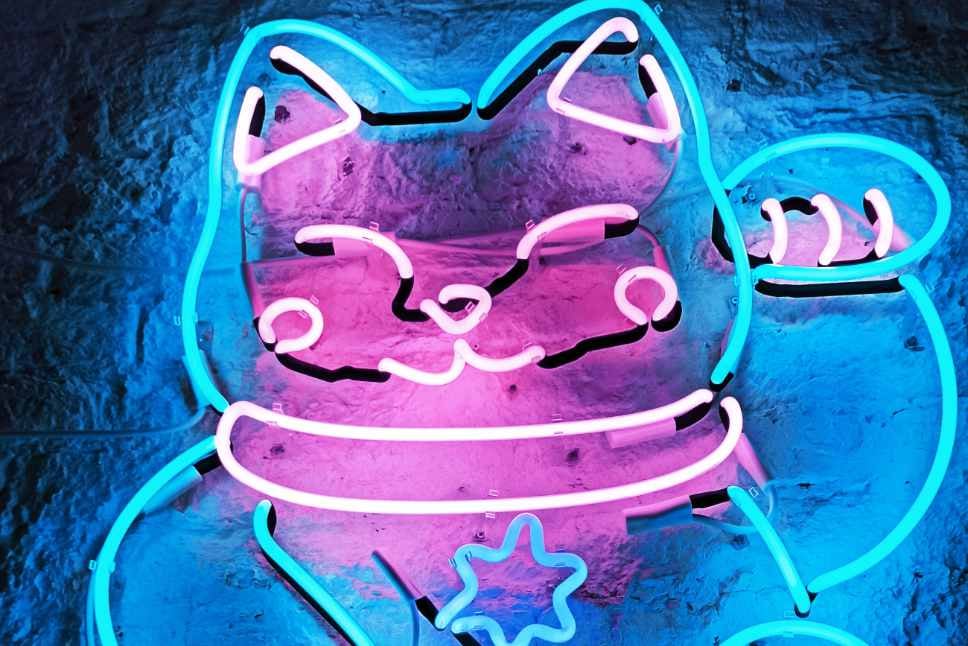 Step 1: Define Business Goals
Any website is merely a means to an end. The ultimate purpose of a business is generally the achievement of a return. Before this surplus could accumulate, customers had to be converted, products had to be explained, article pages had to be made visible in search engines or the brand had to be positioned.
A website can achieve all these goals, but it does not necessarily have to. It is certainly obligatory that the website positions the brand, describes products and services in a hasty manner and at least collects contacts, roughly like a nicely designed shop window in a pedestrian zone.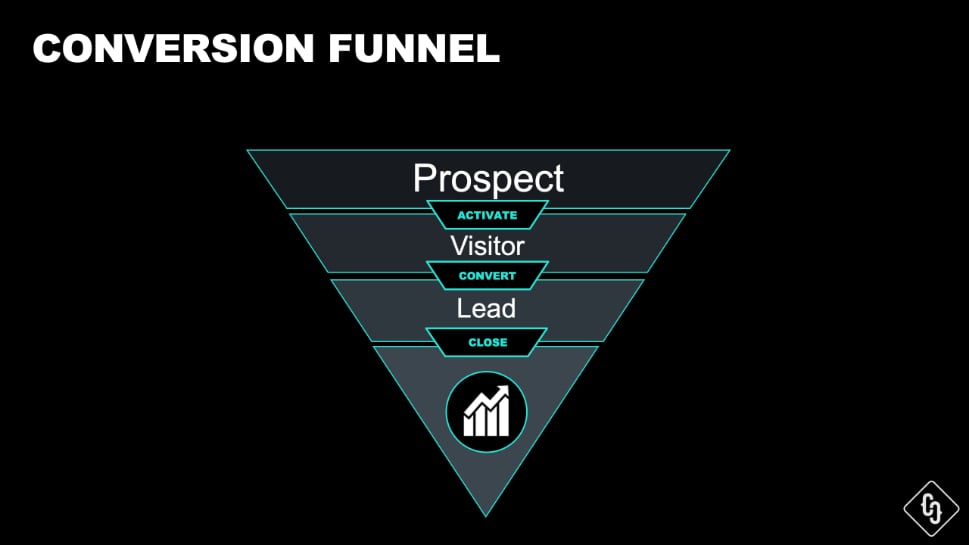 However, a website does not necessarily have to be visible in a search engine like Google. This applies, for example, to those companies whose target group does not first search on Google, but researches products on Amazon. Even very successful Amazon dealers often only have a virtual ringing sign in the form of a One Pager, which from an SEO point of view ranks hardly is hardly ranked. Google is also just an attribution channel with recommendation function.
Similarly, companies that operate in niche industries or whose topics are so new that they are still completely unknown to the potential target group achieve low search volumes. The investment in search engine optimization in the form of technical development or the conception of content hubs and blogs could also be spared in this case.
Does a website absolutely have to be conversion-optimized? That depends entirely on the conversion target: A conversion does not necessarily have to be a won email address or a sold product. A conversion target can also be a triggered ad impression, such as on ad-financed websites from the news and entertainment sector. Sales are made without visiting a landing page or clicking a CTA. The money for conversion optimization could be better invested elsewhere, for example in search engine optimization.
It is therefore advisable to keep a close eye on the goals and to describe the way to reach them in a very concrete way. Since a website project always has to struggle with budgetary restrictions, it is worthwhile to concentrate on the essentials.
Step 2: Define Target Group
A website is there for the target group, not for the sender. Many companies confuse this. This becomes apparent when the content appeals to the board of directors, who look at the site for launch, but not to the user, who is responsible for low traffic, short retention times and high bounce rates over the next two years. The worm must taste good to the fish, not the fisherman.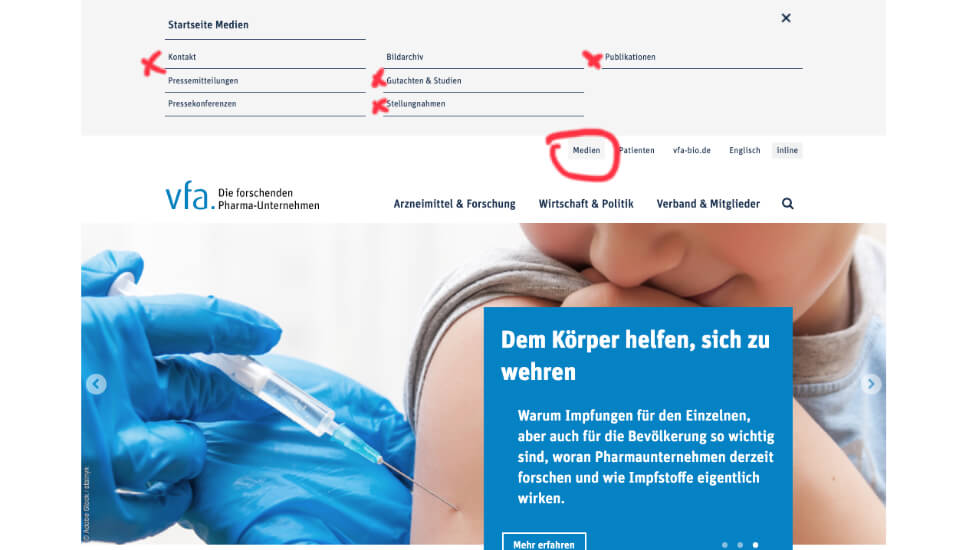 If the sender is now unrecognizable on the website, should we mirror the addressee? A rather rhetorical question. There are typical areas where the sender is at home, e.g. under the menu items "About us", "Team" or "Our promise". This is the ideal place to collect and present all important facts about the sender. Ideal places to talk about yourself and only yourself.
The message reflects the sender, while the content is the message tailored to the needs of the user.
If we sell yoghurt, for example, and as the sender are very proud that they produce it under hygienic and ecological conditions, it makes little sense to provide potential buyers with lots of content about hygienic and ecological milk production.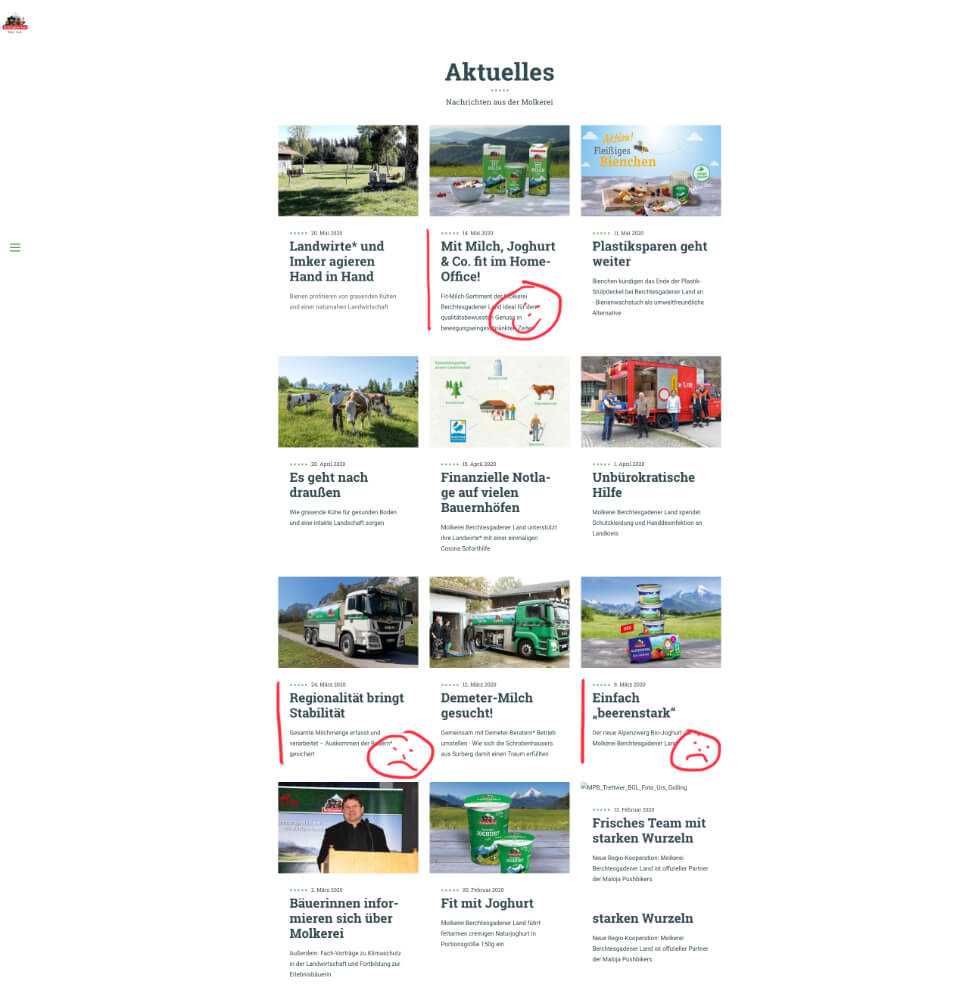 Instead, we provide it with content that focuses on the taste and nutritional benefits of our yoghurt, precisely because it was produced under hygienic and ecological conditions. As a small rule of thumb:
We intend the content for the addressee; the message representing the sender is in the content. The sender hides his message in the content in such a way that the addressee can consume it in his preferred way. This way both benefit.
Step 3: Brand Positioning
We have already mentioned the message of the sender in the previous chapter. But what exactly is our message? We know what we want to sell - points of view, information, services or products. We know who we want to sell to - the target group. It is still unclear how we want to present ourselves to the target group.
Three core questions help us here, with which we create our positioning statement:
What do we do?
Who are we doing it for?
How do we do it?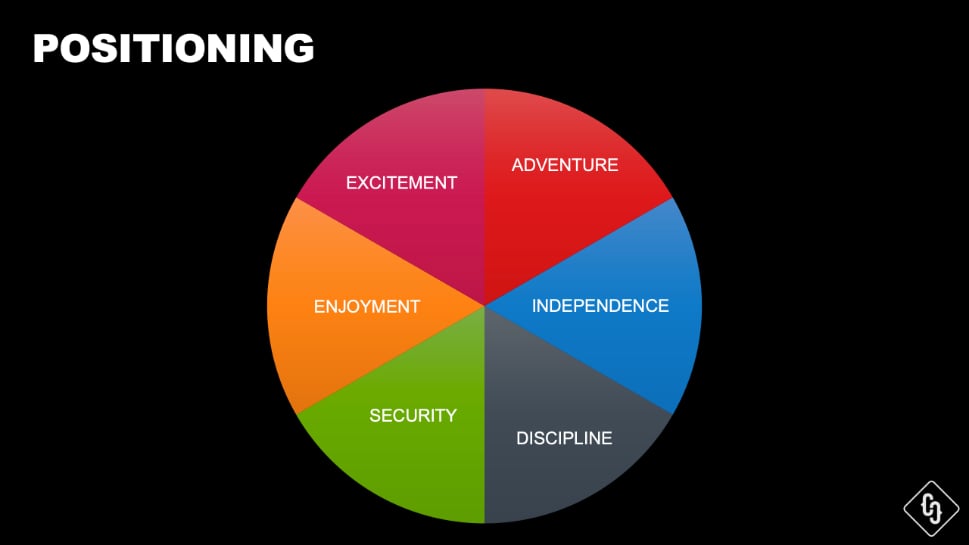 With the answers we get our positioning within the brand wheel. In this way we determine whether we are suitable for:
Excitement represented by change, creativity or individuality,
Adventure, represented a by a spirit of discovery, freedom or courage,
Independence, represented by recognition, success or personal greatness,
Discipline represented by efficiency, functionality or logic,
Security represented by care, trust, warmth, or
Pleasure represented by relaxation, sensuality or carelessness.
It is important that our positioning at the end
is authentic and comprehensible for the addressee,
contains the potential for market growth and price increases,
reduced the number of our competitors, and finally
simplified our business processes.
This self-awareness must be reflected in every article, on every page and also in the shopping cart.
Step 4: Define Topics and Content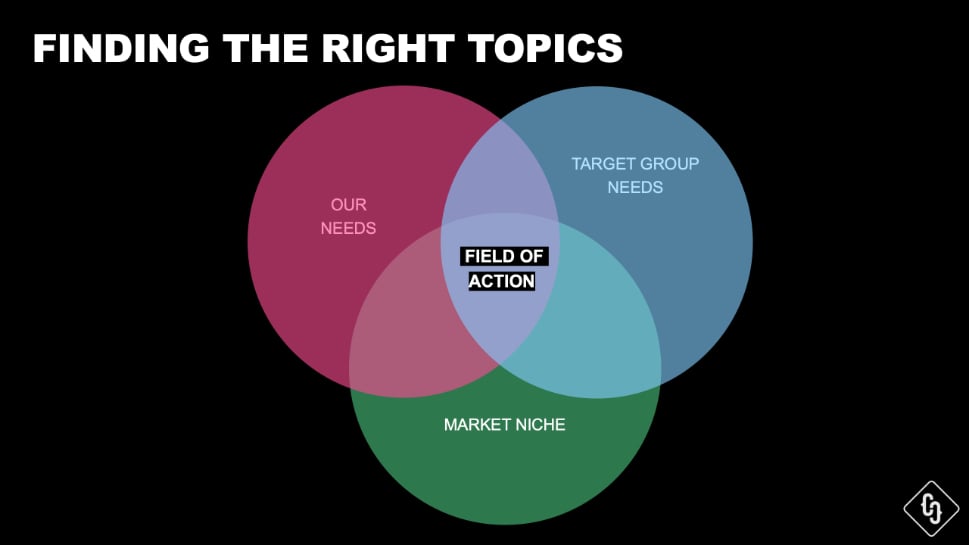 We do not send our message never in its raw state, but always in the form of a topic we use as an opportunity to get in touch with the user. The best topics are those that also interest the target group. But not only, which is why I would like to take the example of the yoghurt manufacturer again:
At the moment there is significant interest in a drug that could cure corona patients. Unfortunately, we as yoghurt producers have little to contribute. If we were to play this topic on our website, it would neither be authentic nor would we be able to make money with it. Therefore, we should always ask ourselves how we want to capitalize on the themes of our website.
For our yoghurt producer, topics such as healthy nutrition, ecology and enjoyment are suitable, which resonate in the target group. These topics play a very important role, especially in a time when we are in our home office and may not move around much or visit our gym. With such an interpretation we support "our cause", but also interest the addressee. We must never forget: Marketing is not an end.
We have to find out what the needs of our target group are and how we can best address them to suggest the best solution to the potential buyer - ours.
Finally, we have to identify our niche in the market, because we don't want to waste our energy pointlessly by working off the biggest player in our industry - unless we can do so.
So, in our topics we have to balance our needs, the needs of our customers and our market opportunities. The greater the intersection, the more successful we will be.
Step 5: Develop Formats
Which formats should we use on our new website? Preferably the one that our target group prefers to consume most, quickly and effectively. From our point of view, it is important that we produce the content efficiently.
The basis for any kind of format are texts. Every video needs a manuscript, every infographics needs a briefing on content. This makes text formats the most efficient genre from a production point of view - they are already there. Because they don't create as much pull as an animated GIF or a TikTok video, we have to dig deep into our bag of tricks to make them effective. We need to understand human weaknesses.
Every user wants
buy the best of 10 products (the top list),
do nothing wrong (the Warning Post), or
miss nothing to better interact socially (the "Fear of Missing Out" post)
In our post on content production with Airtable, we already mentioned these formats, which Appsumo analyzed based on its high-performing blog:
In 2017, Dean Yeong from the AppSumo team published a highly acclaimed post on the Sumo.com website entitled "60 Blog Post Ideas to Fill Your Content Calendar".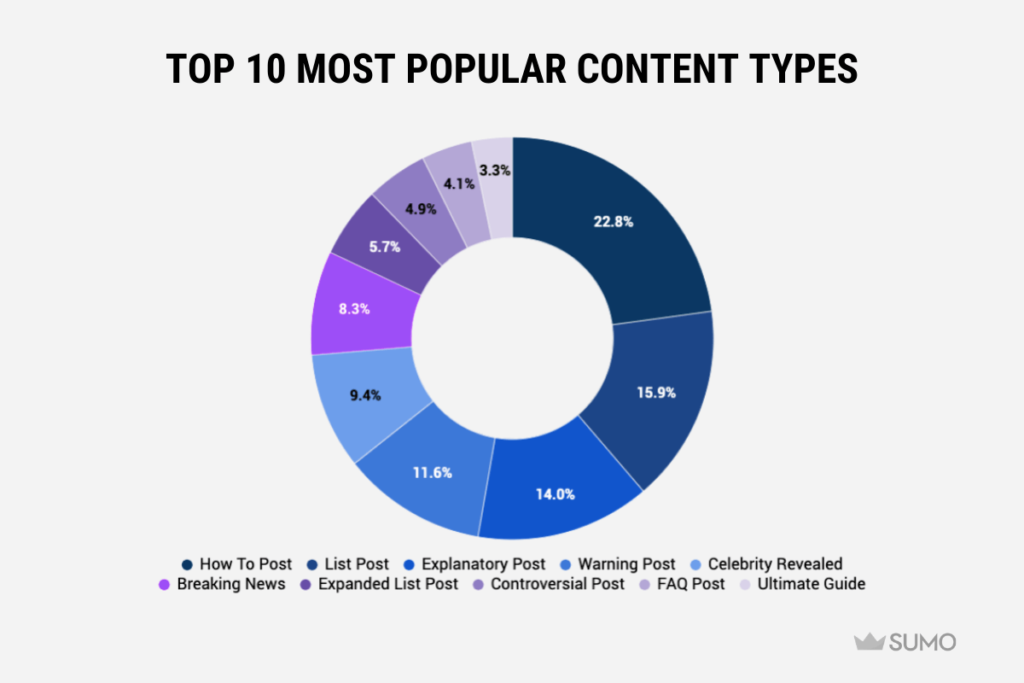 In this blog post, Yeong listed among others the most successful formats of the AppSumo blog. Because of enormous publication volume of the blog, the numbers (175M visits) could claim a certain representativeness. Here we see the chart of the top 10 formats that Yeong identified in his massive content audit.
We can record these copies as podcasts, present them as webinars, summarize them as white papers or send them as e-mail courses. This kind of "repurposing" is done by the infamous Gary Vaynerchuk with his model of the content pyramid.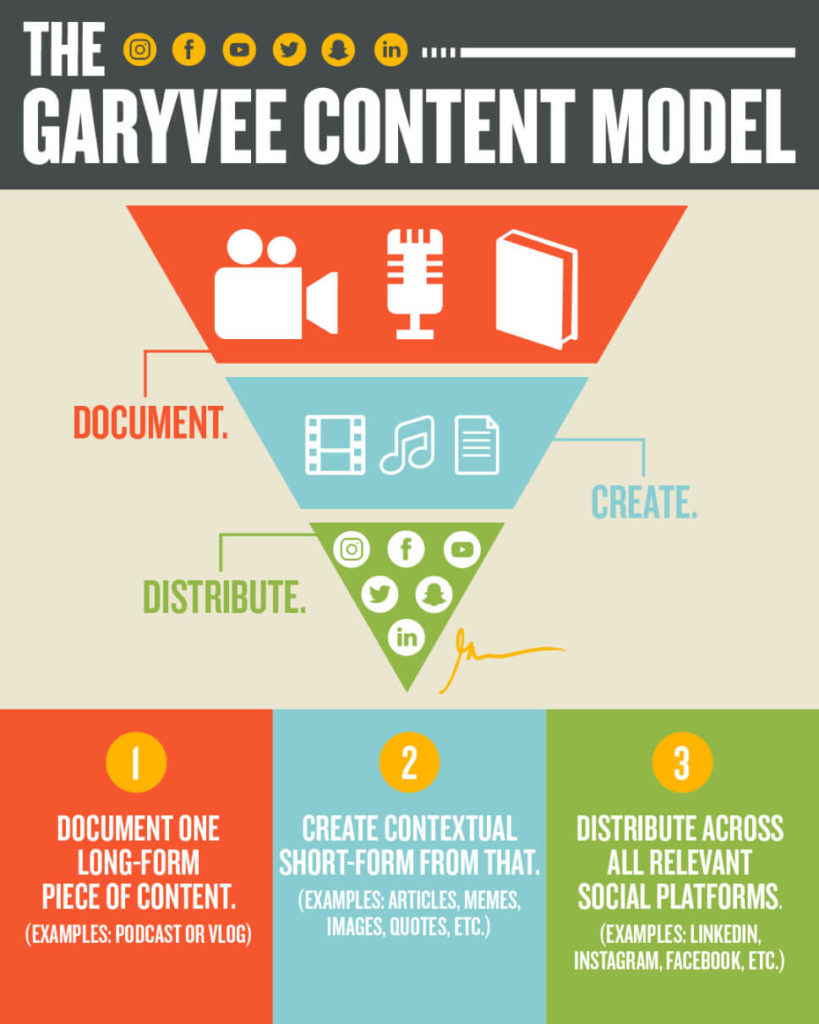 Production efficiency is so important because attractive formats, such as
strategically demanding and yet only once usable infographics are very expensive to produce,
wonderful video productions have to meet the highest standards due to our consumer habits (and are therefore just as expensive)
valuable and demanding glossaries are time consuming and require continuous maintenance, and
every right-free stock photo (e.g. "hand on keyboard with coffee cup") has been used thousands of times.
If we cannot produce our formats efficiently and in the long run exceeds our time and financial budget, we quickly have dead website areas with little and outdated content after the launch of our website.
Second part: Features and structures
We have reached the end of the first part. It is already apparent that a website launch or relaunch demands a content marketer not only as a creative strategist but also as a result-oriented businessman. Which role is still missing?
The role of the technician: The second part will therefore deal with features and structures.
---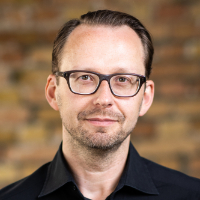 Gerrit Grunert
Gerrit Grunert is the founder and CEO of Crispy Content®. In 2019, he published his book "Methodical Content Marketing" published by Springer Gabler, as well as the series of online courses "Making Content." In his free time, Gerrit is a passionate guitar collector, likes reading books by Stefan Zweig, and listening to music from the day before yesterday.