Campaign Management 101: Campaign Layering
Last updated on December 13, 2021 at 12:28 PM.
A question that our latest customers have been asking is how topics that represent solely the brand values can be regularly and continuously implemented, as well as are measurable, calculable and effectively communicated. In this article, Gerrit explains how we make sense of this complicated scenario.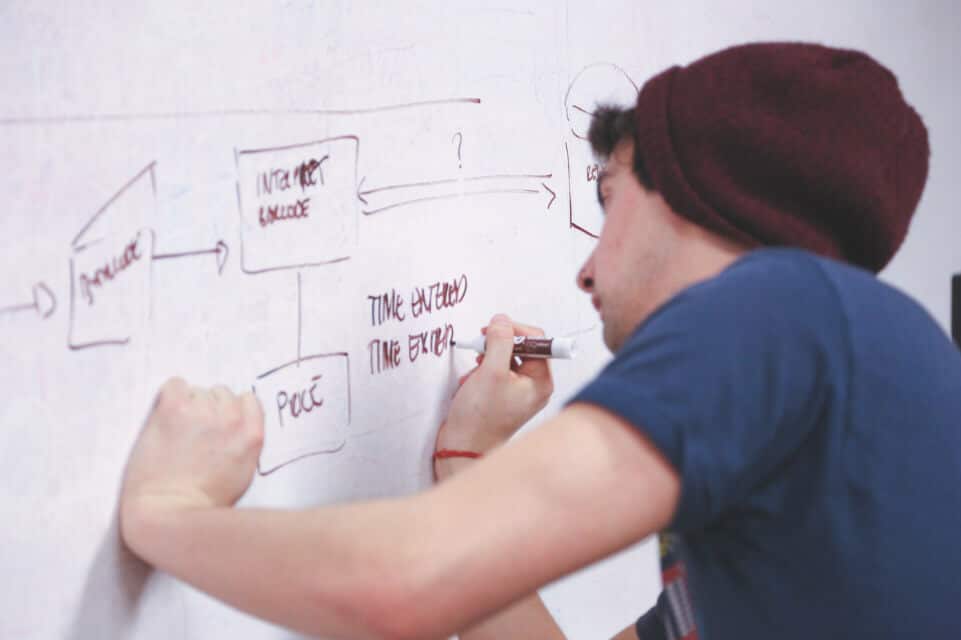 The scenario: always on communication
Questions and problems love to sound abstract, but in our daily lives we often encounter the following scenario: a company whose blog was decided over the past year has the intent of showcasing "innovation" over the next twelve months by using top of the funnel communication that conveys the temporary campaign values. The results should be "innovation" itself and must always be somehow connected to the company as a part of an advertising campaign that sells products or services through individual actions.
For the always on communication style, the editorial calendar will be constantly filled with the same message in countless different ways: we stand for innovation, our products are innovative, the people that work for us are innovative, even the customers that buy from us are innovative.
At some point the label of "innovation" has been stuck to every published asset. Then, at the end of the year, in order to determine forecasts, success measures are evaluated.
The problem: to recognize success
In the meandering stream of the top of the funnel communication, it's extremely difficult to pointpoint the content that has been particularly instrumental in making the sender innovative, particularly when the content has been construed into blog articles and on social media, i.e. continuous use. Measurements based on rolling monthly website reporting are based on a time dimension, but not necessarily goal achievement. If we don't know what was successful, then we also can't improve on it. If we don't know what was a good idea, then we can't optimize it.
The idea: learn from successful campaigns
If we use the parameters of topic, time and goal, it immediately becomes clear that communicating the topic of "innovation" makes more sense when used in a campaign.
A customer might have an issue with this: "The topic of innovation is limitless and we are always focused on the innovative." The advantage of using this topic in a campaign looks equally attractive: specific, measurable, calculable, forecastable and above all, "manageable", because a campaign doesn't dissolve merely because of the aforementioned "meandering stream" of top of funnel communication.
The solution: campaign layering
The solution is already at your fingertips: is there anything wrong with "layering" multiple campaigns that are assigned to separate topics? Not at all, because the sender remains the same and innovation stands for its market value now, for the upcoming year, and even the year after. Innovation - I am innovative, now and for all time. The topic is a meta topic so to speak. The topics of the campaign, or subtopics, contextualize scenarios that seem comprehensible for the intended audience, such as, "Innovative in the Automotive Industry 2020 with us as a partner".
Layering campaigns is actually easy to do if they use the same process and only have some changes to the content. Take a look at the graphic below.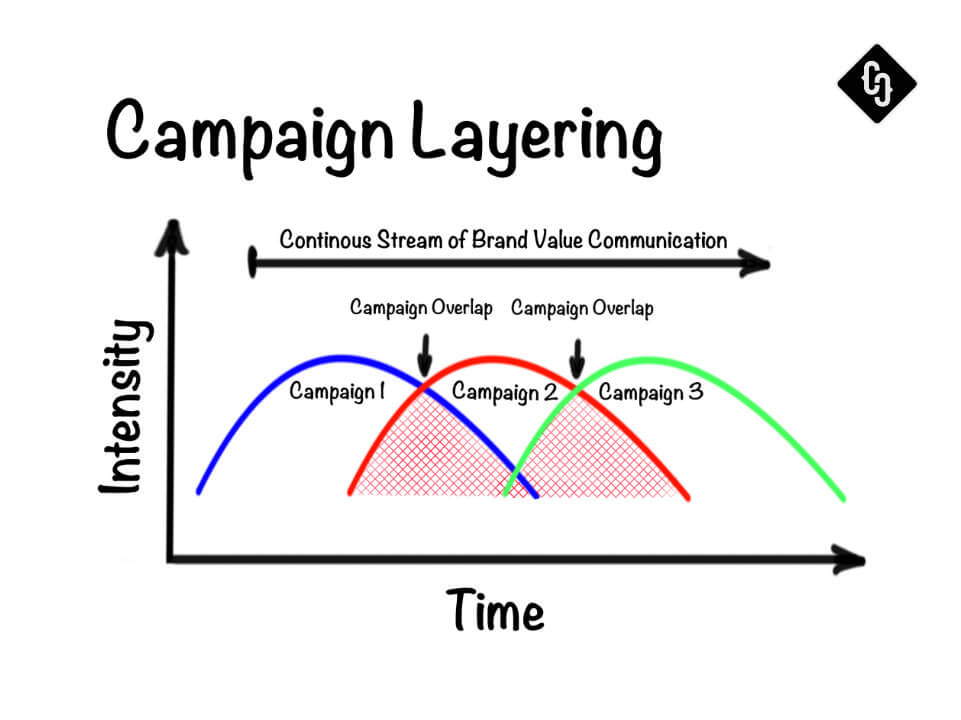 Over a twelve month period, three clear-cut campaigns will be implemented. The elements include: campaign topic, persona, campaign goal and customer journey phase in which the target persona should be somewhere within. This selectivity is necessary because behavioral data from users on the platforms have to be recognizable in the analysis tools. This is the only way to measure success.
To use a practical example, let's take the software giant Salesforce, who is dedicated to communicating the topic of "innovation" and elaborate on how this looks (due to space limitations we have used the strategic derivation, but the result is summarized in the last line):
| | | | |
| --- | --- | --- | --- |
| Campaign topic | AI-Driven Marketing Automation | Account-Based Marketing | Multi Channel Customer Support |
| Product | Marketing Cloud | Sales Cloud | Service Cloud |
| Persona | Team Lead Marketing | Head of Sales | 2nd Level Support Employees |
| Industry | Service | Engineering | Software |
| Positioning Statement | "With the innovative power of our AI from the Marketing Cloud, you can double your conversion rates like magic - simply Salesforce." | "With our KI-based sales tools, your Inside Sales Team finishes each account faster - simply Salesforce." | "Whether direct messaging, chat or social network: our Service Cloud puts you where your customer needs it most - simply Salesforce." |
At the center of these selected examples are clear-cut advantages of communicating via lead magnets. These are boosted by various elements: social media posts, blog posts indexed by search engines, as well as broadcast and drip campaigns that are conducted via email marketing. This predictable "shopping list" makes any campaign easily calculable.
Efficiently remain "always on" with campaign layering
A continual communication of topics and brand values is only reliable, measurable and easier to manage when separated into selective campaigns. This process of campaign layering will, despite the use of individual campaigns, maintain the long-term flow of information that conveys brand values to the target market, which is in the end, their own innovative strength.
>> Everything that you need to know about campaign management can be found in Gerrit's new book "Methodical Content Marketing". Available now - unfortunately German only!
---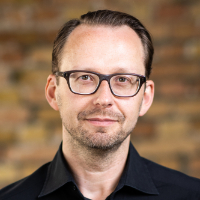 Gerrit Grunert
Gerrit Grunert is the founder and CEO of Crispy Content®. In 2019, he published his book "Methodical Content Marketing" published by Springer Gabler, as well as the series of online courses "Making Content." In his free time, Gerrit is a passionate guitar collector, likes reading books by Stefan Zweig, and listening to music from the day before yesterday.