15 Content Tools We Still Use | Part 1
Last updated on January 3, 2023 at 09:38 AM.
Which content marketing tools are the best? The ones you use every day. New tools are added every year. Most of these tools evaluate data, link them and provide us with feed for our creative development process. But with all the possibilities, you can quickly lose sight of the goal of finally putting the proverbial word on paper. This is why we at Crispy Content® try to keep the number of tools used as low as possible. This is a difficult task, as content production makes many different demands and hardly any solution combines all the necessary functionalities. In the end, this is not quite so dramatic, because every good content ultimately springs from a creative idea. The data only supports us in deciding whether it is worthwhile to develop the idea further or even publish it as content. In this two-part article I will therefore introduce the tools that have been used by Crispy Content® in content production for years and that we use every day.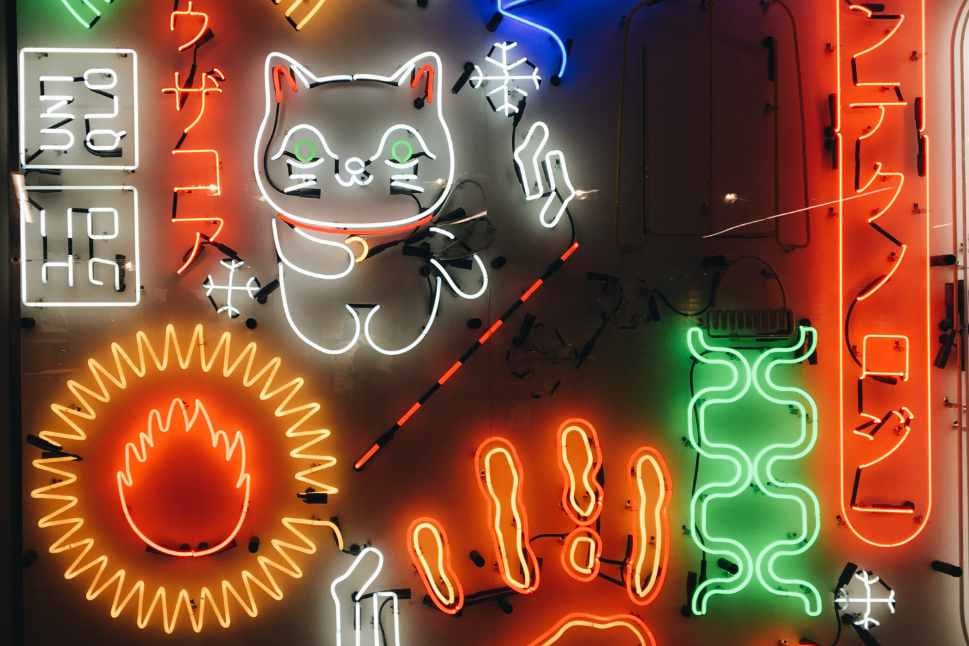 Discover, produce, organize and distribute
Content production is made up of various steps, which are broadly divided into
the content discovery (the identification of relevant topics),
the content planning,
the content production itself, and
the content distribution.
Each of these steps makes special demands on the tools used. Therefore, we use 15 technical solutions to achieve high-quality content that also achieves a performance target. 15 tools is not a small number considering the Marketing Technology Landscape Supergraphic (2020) just published by the famous Scott Brinker. 8,000 tools and no end is in sight.
Some of the tools I've introduced don't just have a killer feature, which is why we come across them again and again in the various stages of production. Enough of the preface, let's start with content discovery.
Content Discovery
Semrush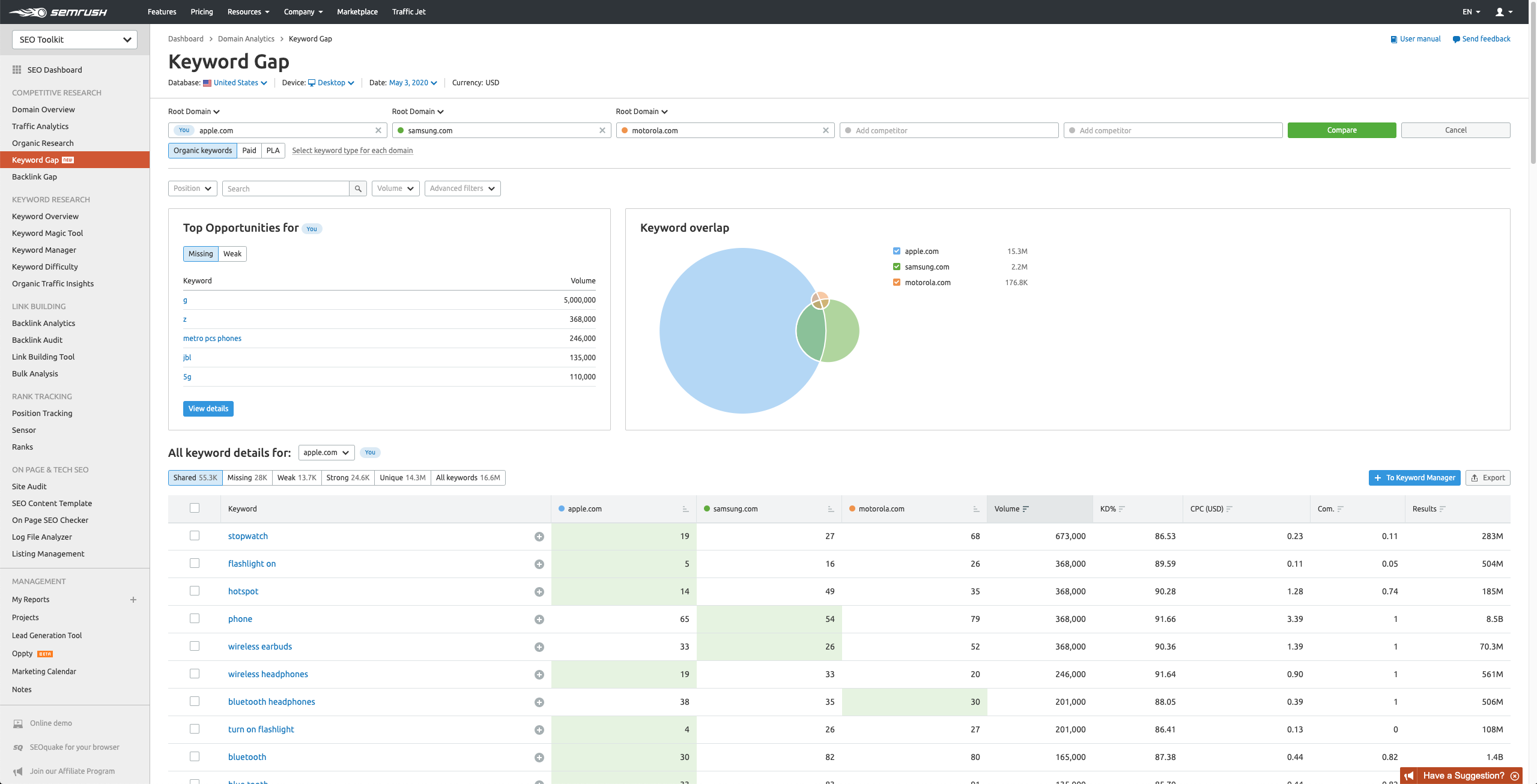 Semrush is an SEO tool that provides us with a lot of data about keywords, rankings, backlinks and search engine advertising bookings - on a global scale. Who ranks with which keyword in which position, who books which adwords and how does it all look in a monthly comparison? Semrush has the answer.
What makes the tool so special for us is how the raw data is evaluated.
For example, gap analyzes show us which backlinks, keywords and adwords our competitors or best practice cases have and we might not have.
The Keyword Magic Tool is also worth mentioning: Here keywords are semantically evaluated, are more widely spread, more varied and free the producing content marketer from the corset of focus keywords.
The Content Magic Tool is similarly liberating: Here keywords, Google's autosuggest and ranking pages are evaluated on a content level, so that the editorial calendar fills up quickly.
In addition, there are also diagrams, reports and templates, which play no special role in our production process.
So Semrush has a lot of interesting features. At just under 99.95 USD per month with a monthly notice period, you're in.
Ahrefs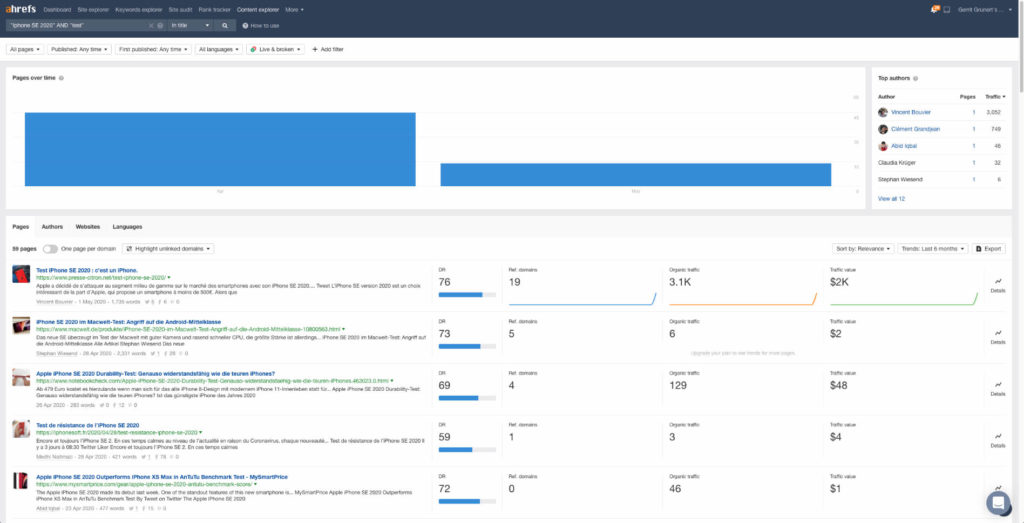 Another great SEO all-in-one tool: Keywords, rankings, backlinks and website traffic estimates, that and more is provided by Ahrefs. Again and again, Ahrefs and Semrush compete against each other in tests. They often compare the number of found backlinks, less often the traffic estimation. Sometimes Semrush is ahead, sometimes Ahrefs. Why now should we invest 100 EUR in another software license?
The reason is the Ahrefs Content Explorer: Ahrefs gives us the answer to the question, which posts in the net are particularly "resonating". The tool has a gigantic website crawler that reads billions of URLs at regular intervals.
In contrast to Semrush, Ahrefs not only relates keywords and URLs but also reads and collects titles, descriptions, full texts and references. As a result, we can find out which tests for the Iphone SE 2020 (search phrase "Iphone SE 2020" AND "test" with a Title Search) were shared particularly frequently within a defined period, which publishers have a high authority and achieved a high number of hits. Bulk analysis of the content and quantification of the evaluation results in possibilities to make the backlink building more effective and efficient than with any other tool. And this is just one use case!
Ahrefs costs 99 USD with monthly notice period, for us this is a worthwhile investment.
AnswerThePublic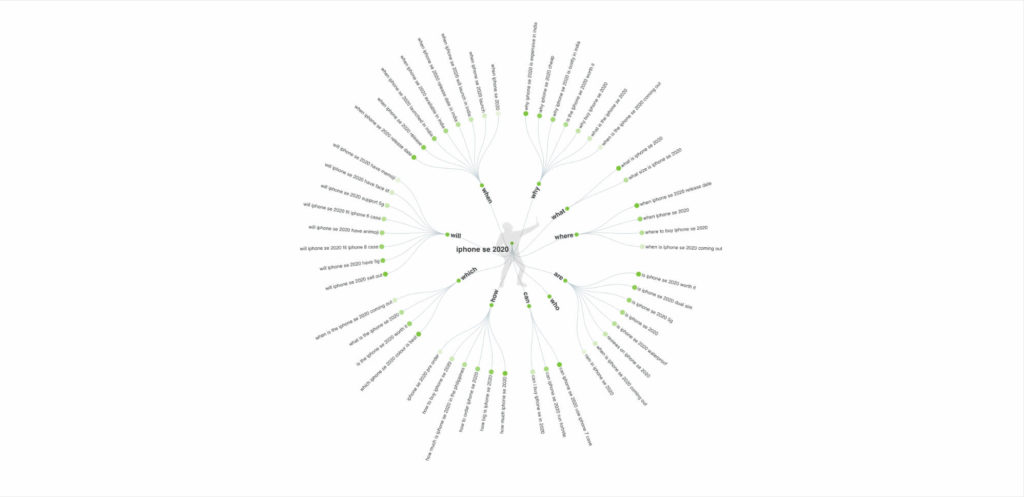 AnswerThePublic takes a unique approach than the two tools mentioned above: Answer the Public brings together user questions and Google's Auto-Complete. Enter your topic and the tool generates visualizations that show the relationship between question, keyword and autocomplete. This is how we find out the "burning questions of life" to which we as marketers can respond.
We use AnswerThePublic when the corset of keywords becomes too tight for us and we can't get anywhere with Semrush and Ahrefs.
We use the free version of AnswerThePublic.
AlsoAsked.com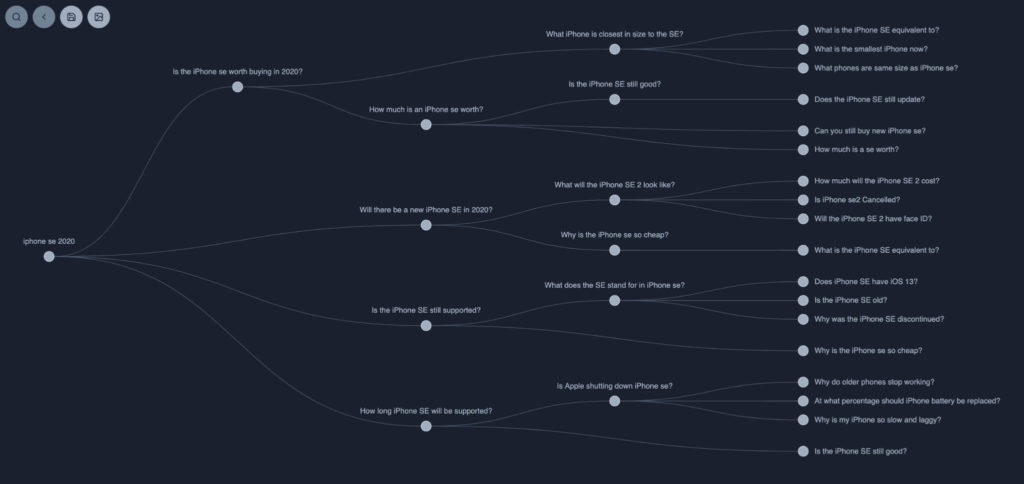 During our research we came across a tool similar to AnswerThePublic – AlsoAsked.com. Here too, data from the Google API is aggregated. AlsoAsked.com uses "People Also Asked" data to do this, which provides results for further longtail searches and shows the relationships between these topics and questions.
We have not yet tested this tool. But it seems so exciting that I didn't want to keep it from you.
Evernote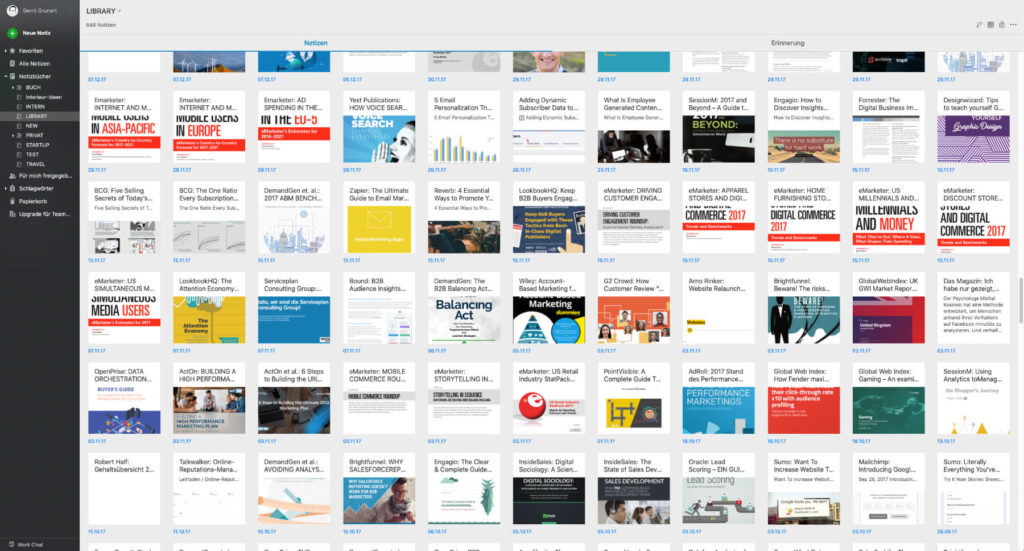 Anyone who reads a lot in Content Discovery forgets just as much. Thanks to Evernote, we lose nothing. With the help of the Web Clipper, links, statistics, images and even entire websites can be captured, stored and tagged. But the real killer feature is the full-text search: Evernote not only searches titles, tags and text content but also handwritten PDFs. So Evernote is our pool for Evergreen content ideas.
Evernote was one of the most important tools for the production of my book "Methodical Content Marketing".
We are happy to pay 6.99 EUR per month for Evernote.
Content Planning
Google Drive
Such a variety of information that we collect in Content Discovery needs to be organized. The home for all content assets is the Google Drive.
Does the Google Drive still need to be introduced? Sometimes, when the IT department sold its soul to Bill Gates 20 years ago and can no longer end that contract.
At the Google Drive, we can host just about anything that's needed for the creative process: Any files, integrated flowcharts of diagrams, tables, scraping data and much more. Plus the ability to automatically bring data more synchronized to the local machine.
The most important feature from my point of view: Since each document has an individual URL, these documents can be linked in any other tool, Viva La Cloud!
Google Drive is free and we love it here. The physical server is getting dusty in the meantime.
Airtable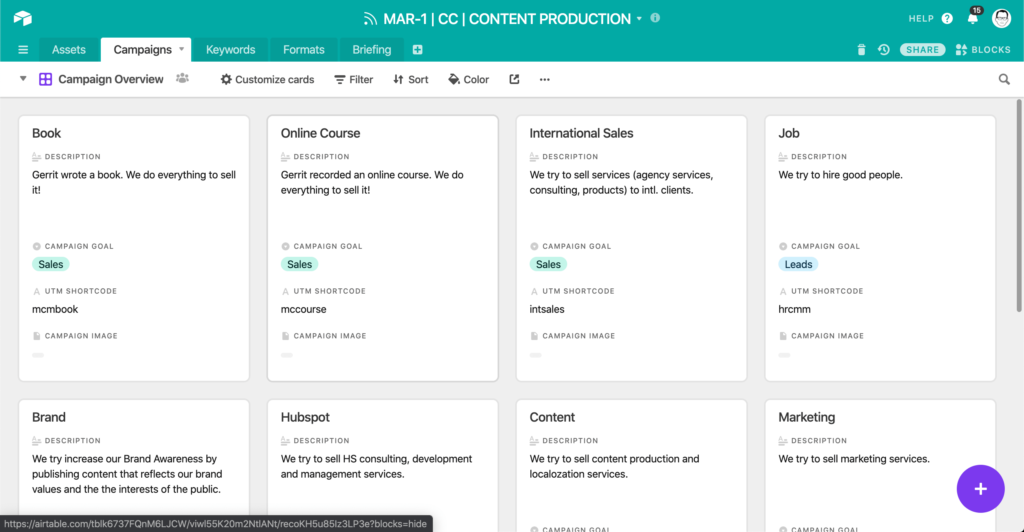 We have already commented in detail on Airtable in an earlier article.
In brief: We map all strategic considerations for a content in Airtable. This includes
Assignment of the focus keywords,
Campaign assignment,
Format assignment,
Collection of sources,
Production control,
Quality assurance,
Communication
and much more.
We use Airtable in the free version. In the paid versions we add some pleasant features like dashboards, time tracking and apps (called blocks here).
Part Two: Content Production and Content Distribution
We have reached the end of the first part.
None of these tools has all the features necessary in such a diverse work process as the production of creative and performance-oriented content. We do not want to do with none of these tools.
The second part will deal with the technical solutions for content production and content distribution.
---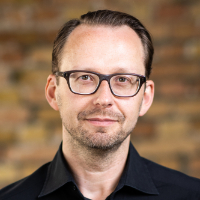 Gerrit Grunert
Gerrit Grunert is the founder and CEO of Crispy Content®. In 2019, he published his book "Methodical Content Marketing" published by Springer Gabler, as well as the series of online courses "Making Content." In his free time, Gerrit is a passionate guitar collector, likes reading books by Stefan Zweig, and listening to music from the day before yesterday.